vurt
Ideas for things to do and how to (possibly) do them
---
Wed 6 Aug, 2014
Get an old cylinder mower (old battered one, but running seen on ebay for #60) and do it up but painted in hot-rod style? Re-sharpen cutting blade and get working smoothly but make it look awesome with gloss black colour-scheme (red detailing - maybe flame motif on grass bin?)
Read More
---
Wed 6 Aug, 2014
Add solar panel system to shed to provide power down at the patio. Would need a solar panel (50W?), charge controller, battery (deep cycle lead acid) and an 240V inverter to run mains powered devices. Could get a submersible pump (are 12V ones available?) to put in the water barrels to use to water the veg patches better. Could this be automated with Raspi/arduino, solenoids and soil moisture sensors to provide automatic watering?
Read More
---
Tue 5 Aug, 2014
---
I've updated my website to have a new look and feel, obviously based on a bootstrap theme because I'm no designer and I'm lazy. However, the biggest change is that I've moved away from using Wordpress to a static site generator called Hugo. I've stopped using Wordpress because I was sick of constantly having to upgrade it and I was equally sick of the constant attempts at comment spam. Even though I had various anti-spam measures in place and comments had to be approved before getting posted - every day I'd get half a dozen random user accounts generated by spam-bots.
Read More
---
Sat 12 Jul, 2014
---
For a while now, I've fancied having a nice little bistro-style table to go on the patio in my garden but was unable to find anything that I liked. As I had a some 7ft scaffold planks left over from building some raised beds, I decided to use one of those and make my own table top. At this point, the plan was to use a standard table base and just make my own top, but more on that later.
Read More
---
Fri 11 Jul, 2014
Ideas for filling in empty Brown Bag slots A couple of thoughts on how to fill empty brown bag slots at work Show Dev videos Trialled this at short notice yesterday by showing a Google I/O video Casting to the future. It's an easy way to fill a slot and there's plenty of choice, even just from the Google I/O videos. Could extend this by having a "Vote for the next video" option?
Read More
---
Wed 25 Jun, 2014
n-gram/markov chain driven bot that combines tweets by others on given tags into random posts of its own. Alternatively could start with known dictionary and add all responses to its dictionary, gradually evolving its output.
Read More
---
Tue 17 Jun, 2014
---
Tool to automate web publishing Using a static site generation tool, how can I easily publish to other channels such as Facebook or twitter? The tool should have a configurable list of publishers, along with their characteristics (e.g. API key, min/max length, etc.) When run, new posts would be automatically published to the configured channels along with a link back to the master web page produced by the static site generation tool.
Read More
---
Sat 17 May, 2014
---
My Landrover Defender 110 lost one of its rear mudflaps a while back and was looking rather tatty as a result. So after a few months of putting the job off, I finally bought some replacement rubber and set about putting things right. The old flap had torn off, leaving a stub still attached to the bracket by a couple of rivets: The old rubber must have come loose previously as one of the rivets was replaced witha nut and bolt.
Read More
---
Fri 31 May, 2013
Sometimes when working with git branches, you'll find you need to rewrite history to correct a mistake. For example you squashed your commits into one and pushed them but then realised you'd missed something from the squash and need to do it again. Now, while you can perform the git rebase -i again and make the changes locally, you won't be able to push this back to origin as your branches have diverged.
Read More
---
Sun 17 Feb, 2013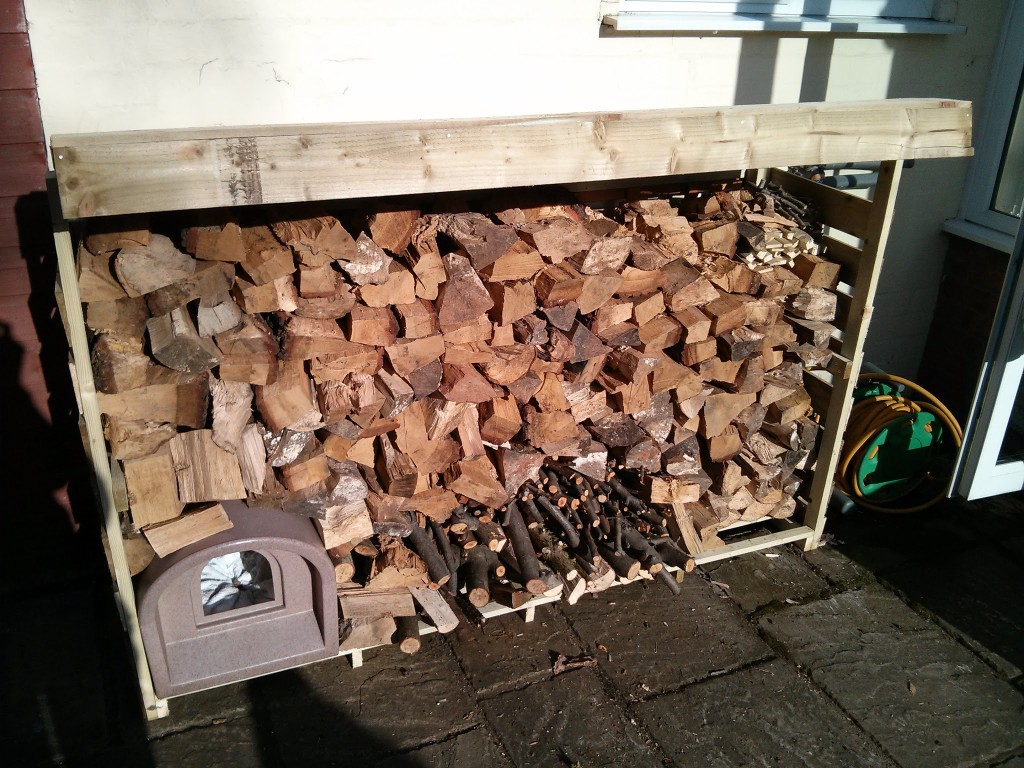 ---
I recently had a wood burning stove installed which meant that I needed somewhere to store all the logs I'll be burning. Rather than spend a lot of money on a professionally made log store, I decided to make my own, because hey, I own a hammer and a saw, how hard can it be? I sketched a rough plan on the bag of an envelope then headed down to my nearest large hardware retailer and picked up some supplies: I decided to use a 6'x3' lattice fence panel as the back of the log store because I was feeling lazy.
Read More
---